Bio


The Great South studio hosts bands for young Sydney-based musical performers. These bands play various genres including, rock, melodic originals, contemporary hit songs and traditional pieces.

Collectively they have performed at festivals, parades, malls, youth centres, Christmas concerts, busking venues, local Community Radio and music festivals. 2MG recently performed at the 2013 Northern Beaches Music Festival.


Each year Ai Ai Ai perform before more than 100,000 people as part of the Sydney Chinese New Year Parade.






Getting Started


The studio emerged out of Great South Band (aka GSB) which was created by the Southgate family during the early half of 2005 when Kian and Shenoa, then 8 years and 6 years old respectively were given the opportunity by their school to play a piece at the annual school Pizza Party - an informal and casual turnout of the school's budding young musicians organised by Gilbert's mother, cellist, music teacher and 2008 NSW P&C Parent of the Year Lucy East.

Accompanied by their Dad Jay, the trio came up with an epic rendition of a Pete Seeger & Lee Hays written song

If I Had a Hammer

made famous by a number of artists including Peter, Paul & Mary and Trini Lopez.

The GSB version included Jay on guitar, Shenoa on cello, and Kian on drum and tambourine with Jay & Shenoa singing the vocal. In one verse words were changed slightly to

"If I had a cello, I'd play it in the morning …"

Kian used his home practice drum .. a round plastic Lego block container with a lid. But the one thing that caught most people's attention was the plastic toy hammer which Kian used for the beat.

The audience response was very, very encouraging. So encouraging was it, that it motivated the band to add additional members and perform again, and again, and again …

And that's how it all started !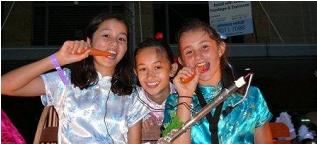 Ai Ai Ai
at the Year of the Rabbit
2011 Sydney CNY Twilight Parade
Band members have a high level of musical talent, attending performing arts high schools, being awarded high school music scholarships and appearing on national TV.

Copyright © Go Publishing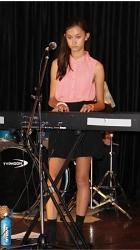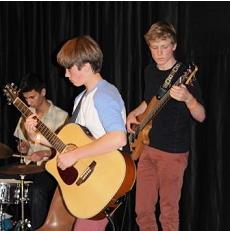 Live performances are highly popular and the bands are frequently asked to perform each year for annual events.